The Best Inflatable Sprinklers For Kids
Kids sprinklers are a fun and safe way to help your child forget about trips to the waterpark. Shop our favorite options.
Say adios to those old rusty metal sprinklers that just go back and forth and say hello to these super fun giant inflatable water sprinklers for the yard!
When you're a kid, there's nothing better than that moment when your parent suddenly sets up the sprinkler in the backyard and gives you permission to scream, splash and play for hours. And when you're an adult with kids of your own? There's nothing better than that moment when you set up the sprinkler, sit back and let the littles wear themselves out.

Seriously, it's the ultimate parenting hack. (And it doesn't hurt that sprinklers have gotten so much cuter in the last few years.) If you're on the hunt for something fun that will keep the kiddos cool and hold their attention for longer than an afternoon, these special inflatable sprinklers should do the trick. Though unbelievably large, almost all of them cost less than $50.
Top 3
We all grew up jumping through that one busted sprinkler over and over again. Sure we didn't have a pool, but neither did anyone else. We were perfectly content closing our eyes and running through the sprinkler until it was time for supper. These days, sprinklers for the kiddos have come such a long way. First off, so many of them are inflatable (those are our favorites) and most of them are giant. Yep, we're talking taller than most adults ranging anywhere from 6-feet to 7-feet. Especially with everything going on in the world, it's a nice break for them to put down their toys and head outside. Might as well stay cool in the summer sun while they're at it!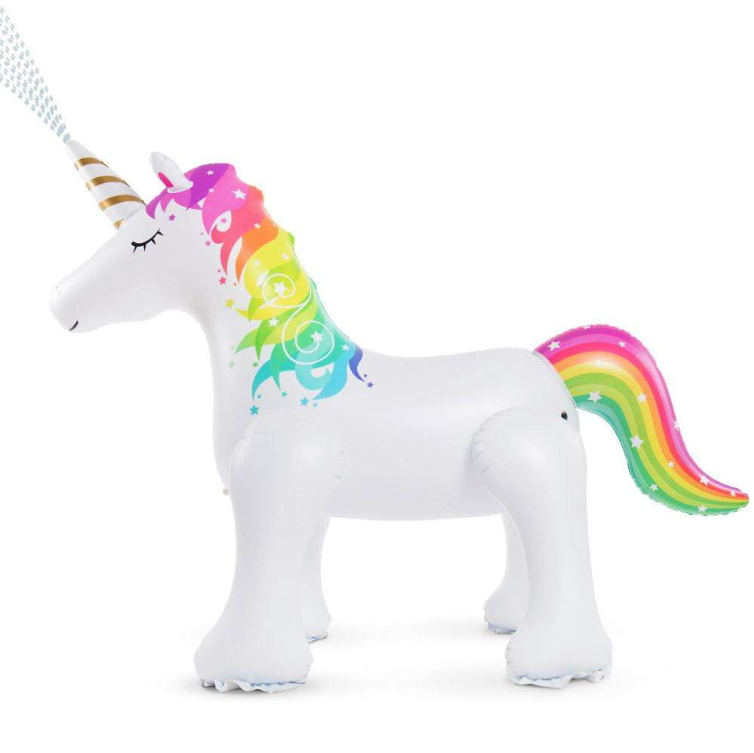 You and your kids will be the envy of the neighborhood this summer when they're squealing with delight running around underneath these giant unicorns, elephants, dinosaurs, or underneath this total magical rainbow. Look how much more fun these sprinklers are compared to what we grew up with!? Check out our picks for the best water sprinklers for kids (so far) this summer of 2021.